Best Music Production Courses In India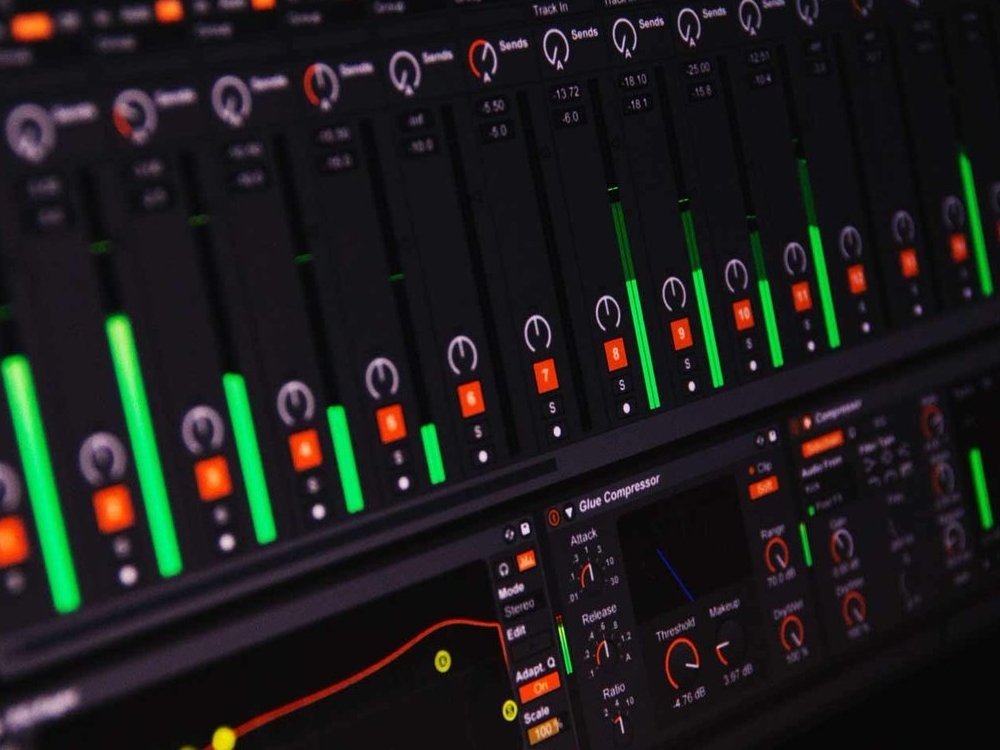 You've finished school and have a passion for music. Probably a musician who loves playing or an enthusiast who discovered the soundscapes behind intense dialogues and violent scenes augment the experience of a movie. A quick google search reveals that an Audio Engineer, Film score Composer, Music Programmer, Music Producer, or someone else does this as a profession. Another simple query leads to the educational qualification of these creative giants, and you're determined to get started. Let's get a Degree my parents and I will be proud of. A passion and a degree in one? It's a miracle! Your dream can now start at one of the best sound engineering colleges in India.
Another Google Search brings disappointment. All good things must come to an end. A Bachelor's Degree from a recognised university is hard to find, and on finding such a course, you discover that you've got subjects you spent the latter half of your High school loathing! And there are these other Diplomas and Certificates in the same field offering the same subjects in a shorter time but don't offer any Graduate accreditation on completion. We've all been there. Having to choose between the beaten path and the road not taken.
One thing to keep in mind is that India has the most films released every year in the whole world! And you'd wonder why there isn't a degree dedicated to sound. People who became hugely successful because of their hobby got enough funds to go abroad and learn from the institutes directly involved with the Academy of Motion Pictures and bring back their wisdom to hand down to their subordinates and prodigies. So it's been a closed circle till the internet became a commodity rather than a luxury that now serves as a channel for most of the Music Production Courses In India to pass on the ocean of knowledge. The way the Indian Film and Music Industry works is also very different from how Hollywood works. Hollywood has a team for every single part of the process but in India, every aspect is taken care of by an individual or often by a single team! From Music to SFX and everything in between.
We believe that proper regulation and standardization of filmmaking couldn't take place because of the sheer talent and innate knowledge from trial and error leading this Giant of an Industry for decades. This also tells us that this field is filled with so many talented people who are often much better technically than you are! And slowly the reality that your 12th Marks aren't going to help you and it's your work experience and talent and passion for anything you do that matters hits you. And suddenly your rich uncle's lifestyle who no one respects, finally makes sense!
Pressure from parents to conform to society leads you to choose a degree in overpopulated fields of Medicine, Law, Engineering, Commerce, etcetera. Which is a good thing because any extra knowledge you gain gives you skills and proof that those skills have translated which always give your resume a better chance of being followed up on. It's still not too late to take the "road not taken". Suddenly the competence of a Degree in this field takes a backseat and your work matters more and speaks for itself. I'm pretty sure people were awestruck with AR Rahman, rather than looking at his academic history.
So from all of these words, you should have understood that work experience, talent and network connections matter the most. So on your journey to becoming an educated Sound Engineer and Music Producer, you need to start looking for the best audio engineering courses in India wherever you reside that give you the foundations to hone craft and a platform to take off from!
There are quite a few sound engineering courses in India that give you some of these important factors but other factors come into the picture like the City where the school is located, reputed colleges and universities in that city, Intra and Inter-City Connectivity and living expenses. Chennai is one of the better places to learn from and has been for decades with a lot of colleges that comply with UGC and are Affiliated with Government universities like Madras University and other well established Deemed To Be Universities. Living here is not so expensive with cheap and well connected public transport and good support for farmers markets. Food is also a reasonable commodity.
That being said, Chennai has its fair set of Sound Engineering Schools too. Being the hub for most of South India's music and film needs. From dubbing studios to film sets and stages, movies from all over India find their way to Chennai to have their smallest of corrections to their final edits and mixdowns accomplished so they can be released.
What sets The Audiophile's School of Sound Engineering as the best Music Production Courses In India is its approach apart is its approach. Procuring current Industry Professionals as staff members and emphasising on practical Hands-on approach to learning gives you two of the most important factors on the checklist of a good school! The third being talent is sourced by you, the student.
The School also focuses on a small 5:1 Student-Teacher ratio, so the groups are small and focused. With intimate classes, the learning is more in-depth because of the scope for discussion and good rapport with current industry professionals as the best Music Production Courses In India is its approach. The Gear in the studio is also one of a kind and sourced from boutique handmade brands like Vanguard Audio Labs and Okatava and industry-standard giants like Avid, Universal Audio and Focusrite. Our Classroom being endorsed by Focusrite called the RedLab gives our students perks with Focusrite gear and ID Cards being accepted at any Music Store in India for any of their musician Needs.
The School's Name also gives students access to Software Discounts internationally as it's got NCVTE (National Center for Vocational and Technical Education) Certification from the Government. The syllabus also covers every aspect of the industry from Recording, Editing to live sound and post-production for film and TV, making this course one of the most rounded courses to study audio engineering and music production in India. Their flagship Diploma Program is one of the most thorough programs any school has to offer. From recording arts to film scoring and music production, incorporating mixing and mastering to Post Production for film and television, Live Sound the completion of this diploma will not let any student lack any knowledge about anything in this field.
The School's vision is to bring international standards to the Indian film and music industry and its mission is to make quality education affordable to all and provide a platform to connect and associate with industry professionals all over India. Our teaching methodology has equipped us in providing a comprehensive Music Production Courses In India. The Educational Institution is led by Mervin T Thomas and his partner Neeraj Kashyap. Both of them are backed with years of experience in the Educational sector both in India and abroad. The Film and Music Industry in India is a closed group, meaning that everyone knows each other, from talent to engineers, being known in the industry is important, as trust builds to networking with the right people leading to bigger opportunities.
So having Mervin and Neeraj on the team; especially since they have a history in the industry; makes it easier for students to network with current professionals in the industry and understand the mechanics of the industry. This experience is also important because the industry in India works very differently from other countries and the wisdom from working in the field is invaluable, hence the bridge between the corporate and the creative has been established. The importance given to the proper understanding of the Indian Music and Film industry coupled with guidance from experience in the industry benefit students as they embark on their journey.
In conclusion, TASE is a great place to learn Music Production Courses In India and to find a niche and make a mark in the industry. Moreover, India releases the most number of films in the world every year so there are opportunities everywhere. I think the time has come to make a decision on where you're going to begin your journey onto the road less travelled for dreams beyond the wildest of imaginations.
FAQ
What Is The Minimum Qualification Required To Join A Music Production Course?
The students willing to join the music production course should have cleared bachelor's degree in any stream.
What Certification Can I Earn While Learning At Tase?
Tase, one of the best Music Production Courses In India offers > Diploma in audio engineering and music production > Certificate in music production
What Is The Course Period For Diploma In Audio Engineering And Music Production?
The duration for your diploma in audio engineering and music production program diploma is one year. However, it may extend based on internship and final project.
What Is The Course Period For The Certificate In Music Production Program?
The duration for your certificate in music production program is three months long but may extend depending on your final project.
Will I Get Studio Time To Learn Real-Time Experience?
Yes. We at Tase offer you the best Music Production Colleges In India and have designed the curriculum based on providing ample time for the studio experience. Students are allowed to engage in real-time sessions to explore this industry.
How Much Studio Time Can I Get In The Program Of Certificate In A Music Production?
As we intake fewer students in this program, we provide them with sufficient practice hours to gain studio experience.
Does The Curriculum Include Internships?
Yes, our curriculum includes internships for our students to enhance their knowledge in this field, and it is a part of your final GPA.
Do Certificate Program Students Have Internships?
No, the students who undertake certificate programs are not provided with internships.
Is There An Option Where I Can Record My Own Music?
Yes, at Tase, it is a part of our curriculum where our students can record and produce their compositions. This option is applicable for both diploma and certificate programs.
Do These Programs Include Workshops?
Yes, we conduct regular workshops for the diploma program, so the students get the required exposure. However, workshops are unavailable for certificate programs.
Previous
February 26, 2020