SSL 2 – Worth it ? #TechTalk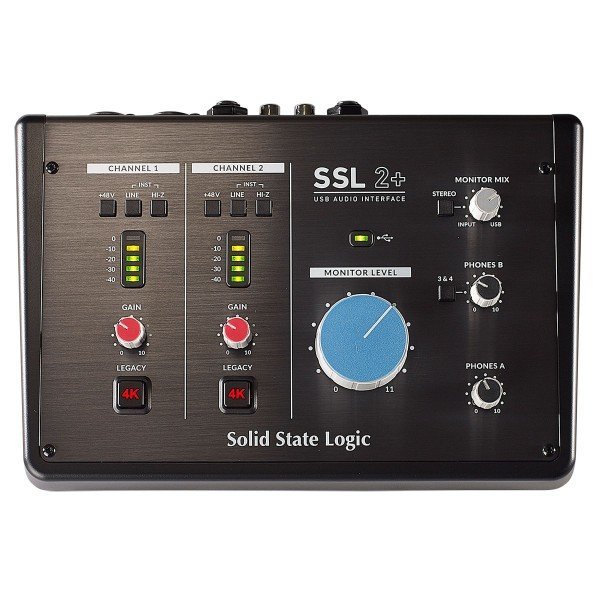 Solid State Logic just launched their first portable USB audio interface – 'SSL 2 and 2+' and this company, as usual, have raised the bar as high it can get! SSL's mixing consoles and processing tools have been the first choice for many studios and a lot of the biggest studios in the world boast SSL's mixing consoles and signal processors. Today, all those dreams of owning an SSL console and recording hits through it have become true! Who said dreams don't come true?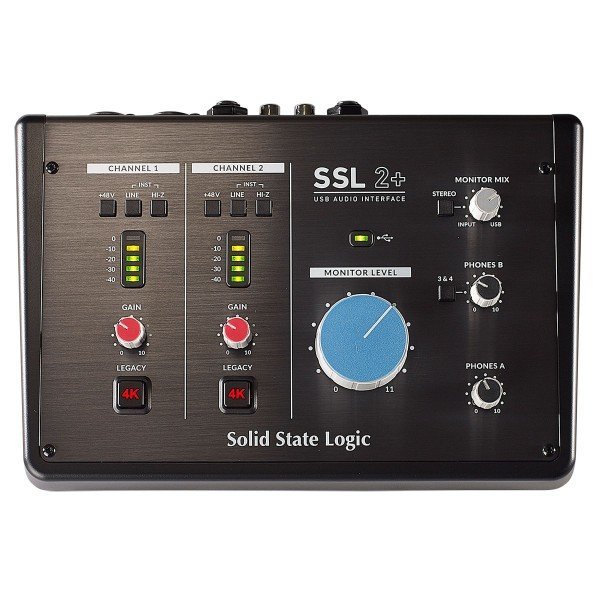 The Preamps
Looking at the SSL 2 & 2+, they boast 2 mic pre-amps which sound nice and flat. The two inputs are capable of handling Mic Level, Instrument Level, and Line level inputs! Each channel has dedicated switches for +48v (phantom power) and switches to select between line-level and HI-Z(Instrument Level). The Mic Pres have a gain range of 62dB, which are exceptionally high for interfaces of this price range! And how can you miss the Legacy 4K button right below the gain knob! This button adds a character inspired from the SL4000 series console and gives a high-frequency EQ boost from the 4000-series EQ which makes it brighter. It also adds subtle harmonic distortion, the classic signature of SSL, to your signal. Each channel has a 5-segment LED meter for an easy visual reference.
The Outputs
The SSL 2 has two balanced outputs and a single headphone output with a very high-current output headphone amp that allows you to use proper studio headphones of accurate monitoring. They also have studio-grade monitor outputs. The 2+ has two balanced outputs and four unbalanced outputs as RCA outputs to easily connect to consumer products and DJ consoles. It also has 2 headphone outputs which allow you to track an artist and has 2 knobs to control the levels of each headphone discretely. It has also got a monitor mix knob that lets you blend the raw signal and the USB playback for zero-latency recording. It's got a stereo and mono button to quickly switch between the two to check your mix on the go. It also can set the "Phones B" to receive audio from the 3 and 4 outputs.
The Hardware
Looking at the hardware, the interface has Neutrik connectors, Alps pots (potentiometers) and AKM converters which are some of the best hardware you can get and these are frequently used on consoles that cost thousands of dollars. The design of the knobs have the classic SSL look and feel. The AKM AD/DA converters are capable of recording and playback at 24-bit, 192kHz. The 2+ also has Midi in and out connectors. The interface is bus-powered and comes with 2 cables, USB-A to USB-C and a USB-C to USB-C which allows the interface to connect to PC and Mac.
The SSL Production Pack
On the software side of things, the interface comes with the SSL Production Pack. A perpetual license for SSL Native Vocal Strip and Drumstrip plug-in and an extended trial for the other SSL Native plugins. Avid Pro Tools | First and an exclusive SSL collection of AAX plug-ins. It also comes with Ableton Live Lite, Native Instruments Hybrid Keys and Komplete Start and 1.5GB of samples from Loopcloud. More than enough to get you started.
In Conclusion
The SSL 2 and SSL2+ are a dream come true for the people who saw the jaw-dropping launch for the SSL SiX and then saw the price tag of 1500 dollars. With the SSL 2 and the SSL 2+ costing 229.99(16.5k INR) and 279.99(20k INR)dollars respectively making it very affordable and packs a huge bang for your buck. So now you can have the 4000-series Console in your backpack to take anywhere with you!
Thank you SSL.
Learn to Produce you own Music at The Audiophile's School of Sound Engineering.
Previous
December 18, 2019