Is Audio Engineering A Good Career Choice?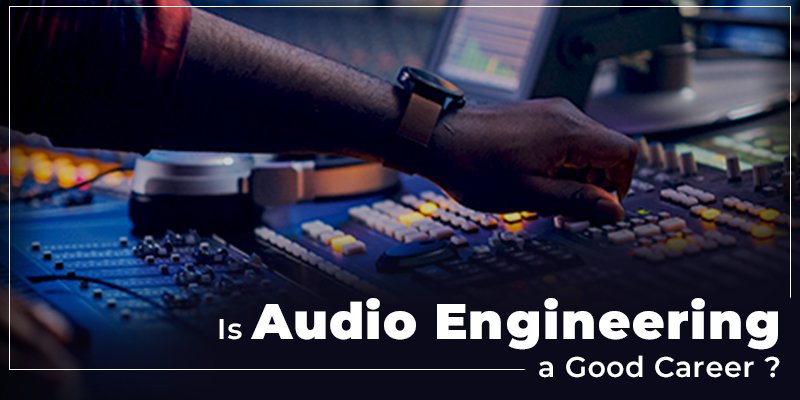 Everyone overlooks the audio engineering in entertainment and media. Be it a concert, film or a video game's impactful background score. Have you ever thought about how a movie today will be without music or sound? To say the least, it would disappoint. It's the music and sound design that sets them apart. 
Film scoring and sound design have really propelled the development of high-quality sound and it's constantly improving. Now is the time for you to pursue a career in this field as this technology is still growing. In the past decade, there has been an increase in the number of sound engineering colleges in India, and many are choosing this industry as their main career. These are a few reasons why.
Numerous Job Opportunities
Like any other industry, sound engineering has many avenues to put your feet in. Recording, editing, producing, mixing, mastering, post-production, sound design for film, live sound for concerts, radio and live tv engineering are just a handful of areas you can sink your teeth into.
And there is much more you can explore, and you could make a promising career in this industry. Taking proper audio engineering courses in India from any institution or university will set you apart in this industry.
Scope Of The Industry
After completing music production courses in India, many roles are offered by the media and entertainment industry. Recording engineers are responsible for making sure music and dialogue for huge films are done correctly. Programmers are used to materializing the music for a film score or title song. Live engineers make sure your audio launches, corporate events and concerts are memorable. 
As a system designer, you can plan and execute designs for a great theatre or auditorium or studio. As an acoustician, you can focus on the kind of treatment the place needs to have the optimal listening experience.
Across India And The World
If you are a qualified audio engineer, you can see yourself working in the major studios and production houses in Mumbai, Kolkata, Bengaluru, Delhi, Pune, and even Chennai. These cities offer quite several job opportunities for an engineer worth his salt. San Fransisco, Los Angeles, New York, Nashville, Vancouver, Toronto, London, Dubai, Melbourne & Sydney, and many other cities are known for their music and entertainment, which offer amazing opportunities in this field, requiring you to be very proficient in your field and doing a sound engineering courses in India can help you boost your career.
Your Own Business
If you are serious about this field, you can work as a freelancer and set up a studio for yourself at home. And as mentioned earlier, there are endless opportunities to explore this field, and with the right education and determination, you can make a name for yourself.
Hence, audio engineering is one of the most happening industries right now. So, if you are willing to make sound engineering in India your career, enrol at The Audiophile's School of Sound Engineering (TASE) and start your journey today.